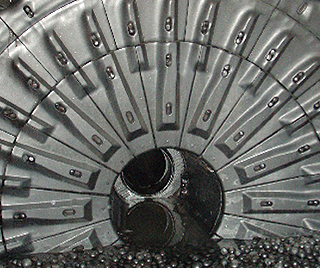 Castings & Liners
Grinding Media
Grinding Media balls crush and grind material in a ball mill. Grinding media sorting is performed when the ball load wears out. New grinding balls are then added or full reload is carried out to keep optimum filling degree and maintaining mill performance. Depending on the material that is to be crushed or ground, Grinding Media can have different forms, sizes, composition and manufacturing process.

High Chrome Grinding Media High Chrome Grinding Media performs exceedingly well in the highly abrasive conditions encountered during grinding operations. They are typically used in the First Chamber of the Cement and Raw Mill.

Low Chrome Grinding Media Low Chrome Grinding Media are typically used in Cement Plants, Mines, Power Stations, Chemical Industries, Grinding Mill, Ball Mill and Coal Mill.

Forged Steel Grinding Media Forged Steel Grinding Media are manufactured by being hammer forged from selected carbon and alloy steels. These high-strength low-cost Grinding Balls are particularly favored in ball mills for their sturdy, well-built and shock absorbing properties.