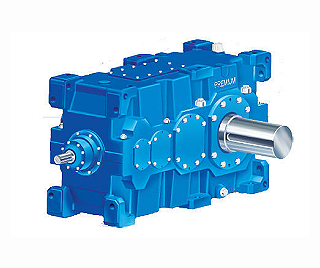 Gear Box
Gear Box
VAID provides gearbox, which works as a source of power and its transmission system, mainly provides controlled application of the power. It is widely used in a lot of areas which includes vehicles, industrial plants, rolling mills, winds turbines, etc. Gear Box Applications :
ConveyorDrive : The high-quality and modular nature of gear box for conveyors mean they are sure to meet your industrial gear box requirements in the cement and mining industries.
BallMill : Our comprehensive line of gear for vertical roller mills excels in many applications, including coal or raw material comminution and cement grinding.
ScrewConveyor : We provide best quality Screw Conveyor Gearbox for various industry applications for controlling the speed of the conveyor belt.
StackerReclaimerDrives : We provides service support for stacker reclaimer gearboxes in the bulk materials handling process. These enormous machines are crucial to the mining industry's bulk materials handling process and reliable, high quality gear systems are mandatory.
RollerPress :Without sacrificing flexibility a highly equipped, gearbox provides smooth, durable operation for roller presses. A wide range of auxiliary equipment further extends the scope of our planetary gear units for cement and raw material grinding.
BucketWheelElevator : With new excavators upgrading your existing mining operations, our gears for bucket wheel excavators provide the ideal solution.

Helical Gear Box The advantage of helical gears over spur gears is the torque capacity. Spur gears, by design, are weaker than helical gears because loads are transmitted over fewer teeth. Helical gearing is machined with angled teeth, then hardened and ground, which is complex but necessary to achieve a high-efficiency gear mesh.

Planetary Gear Box Planetary gear boxes are compact size and low weight – as much as 50% reduction with same torque output and a high power density. Several planets share the load rather than one gear, the more planets the more sharing.

Bevel Helical Gear Box Helical / Bevel Helical Gear Box required for heavy duty Cement mill and various applications. A cement plant requires a huge quantity of gearbox for its machinery, such as vertical mill, cooling tower, bucket elevator, rotary kiln, crusher, separator, ball mill, conveyors and mixer, etc

Cooling Tower Gear Box Gear boxes are used as speed reducers to slow the rotational speed from the incoming motor to the outgoing fan of a cooling tower. Companies that operate high-capacity production plants, such as those in the power industry, require cooling towers with large amounts of heat rejection capacity.

Extruder Gear Box This new gearboxes series for single screw extruder control, has consolidated the position of our company at the market top for transmittable moment torque.