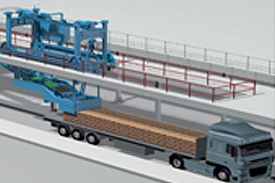 Loading Machines

Wagon Bag Loading VAID offers Wagon Loading Machines to suit the loading requirements of all closed body wagons. These machines are designed to handle different wagon sizes and working conditions with maximum operator comfort. The machines are compact, steady and are easy to maintain.

Truck Bag Loading VAID offers Truck Loading Machines which are either floor or roof mounted.They load various types and sizes of trucks/trailers. The three-dimensional adjustable truck loading machines with slewing and luffing movements enables the operator to easily load the trucks.

Bulk Loading Bulk Loading systems are used when material has to be conveyed in large quantities via motorways and railways. Building materials, coal, cereals, fodder, mineral compounds or products of the chemical industry are often loaded at the production location in suitable vehicles and transported as bulk cargo to other locations. It is particularly important to provide technical loading and handling systems designed specifically for the product and adapted to the installation conditions. When dimensioning these systems, characteristics of the goods like bulk density, product temperature and flow properties are to be taken into account. Other important criteria are the loading capacity, weight and volume monitoring and dust-free, environmentally friendly operation. VAID offers in-depth knowledge in this field and offers the best loading system solution, whether it is for Trucks or Wagons.

Ship Loading VAID offers two types of Ship Loading Systems, based on the materials which are to be loaded. One is for coarse bulk materials, such as clinker or lumpy ores which are loaded in bulk carriers via belt conveying systems and a vertical telescopic tube, efficiently and without dust. The other is for the loading of powdered goods like cement which is handled by fully enclosed loading machines. These are a remarkably eco-friendly solution.