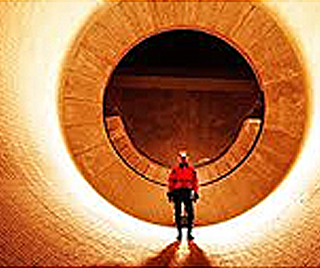 Refractory

Gunning Machine Gunning machine provides a very even flow of material which allows uniform hydration and smooth placement. Smooth placement results in even hydration of material at the nozzle and minimal rebound. Compact size allows it to be used in even the most confined work areas. Putting a wheel mounted Gun on a truck with 2 scaffold planks is a two man job. Narrow width lets it fit through narrow doors. Interchangeable components (hoses and feed wheels) gives you the advantage of controlled rates of feed and a wide range of output. Minimum labour required to operate. Only minutes are required to instruct a ready-mix truck driver or shoveler, and from there the gun needs minimal adjustments.

Welding Machines Welding machines are usually classified as constant current (CC) or constant voltage (CV); a constant current machine varies its output voltage to maintain a steady current while a constant voltage machine will fluctuate its output current to maintain a set voltage. Shielded metal arc welding will use a constant current source and gas metal arc welding and flux-cored arc welding typically use constant voltage sources, but constant current is also possible with a voltage sensing wire feeder.

Mortar Pan Mixer Being a client-centric organisation, we are indulged in manufacturing and exporting Mortar Pan Mixer Machines. Equipped with latest technologies and world-class components, these machines are developed through advanced technology methods. By following international guidelines and set industry norms, these machines are made to suit the diverse industry application requirements.

Shim Driver Pneumatic hammer with shim driving head. Slotted shim driver head allows for high impact on shim & ensures tight radial installation safety.

De-Bricking Machine De-bricking machinery is used to break out the refractories of rotary kilns used in the cement industry. The 360o rotating telescopic boom can reach every point of the kiln and provides the force necessary to break out the refractory lining which is often heavily sintered. With the extensive reach of the telescopic stroke, frequent machine repositioning becomes unnecessary. The clearing- and demolition machinery is employed for the removal of slag and refractory material, e.g. from converters, electric furnaces, mixer cart mouths, hot metal- and steel ladles. The equipment has been especially purpose-designed and precisely adjusted to meet the high daily requirements of working in the cold- and hot sections of steelworks. The machinery supplied on the building-block system is available in a variety of dimensions. This will ensure, that the optimum problem solution can be selected for customers, and to accommodate all sizes of furnace.

Protection Tunnel Protection Tunnels are designed for worker safety from falling coating and withstands impacts of up to 250lbs (113.5kg) dropped from 915mm (36"). Tunnels are custom built to specific kiln requirements. The system includes a Set Up Cage, Safety Inspection Cage and Tunnel Cages. These 3 different types allows easy set up of the tunnel system while working safely undercover the entire time. The tunnel system can be of any length but should span the length of the burn zone or coating.

Muck-it-Bucket The Muck-it-Bucket is designed and manufactured to be the most efficient and safest method for removing debris from refractory kilns in the business. The bucket has a circular bottom that allows for full surface contact on the kiln shell. All buckets have a universal bracket that fits most skid steers.

Burner Alignment Device Burner alignment is achieved by a laser mounting fixture and kiln target. The laser mounting fixture inserts in one of the burner tube ports which aligns it with the burner centre line axis. An adjustable target in the kiln identifies the centre for the laser to align. In some cases, the laser fixture can be mounted on the back of the burner tube and shoots through the middle to the target.

Material Basket The Material Basket is a strong, light weight aluminium-frame that will keep contents stable, secure, and contained. It is used for carrying tools, machines, rubble, or up to two pallets of brick. Can be lifted or carried with crane or forklift. When the burn floor cannot be pre-stocked with brick due to limited space,it is an efficient method for moving quantities of brick to the burn floor .

Robotic Demolition It is the quickest and safest method for Cleaning Cement kilns and demolishing brick linings. In an industry where every hour's outage time means loss of profitable production, investing in a Robotic Demolition machine can pay back after the very first kiln tearout.

Brick Cutting Machine
Length/width/height = 1600/670/1250 mm
Weight: Approx. 200 kg
Table tiltable (width/length/cutting)= 560/600/575 mm
Compatible for Cutting Blade. Size: 14 - 20 inches
Capable of Cutting both Alumina and Basic Bricks
Cutting wheel motor (3-phase AC(V)/P/KW/RPM = 380Y/5/2880)
Cutting wheel (max blade dia. / Blade bore = 20 inches / 1 Inch)

Castable Pan Mixer
Widely demanded and appreciated among the clients due to their flawless performance, less maintenance, longtively, and reliability.
Replaceable Wear- Resistant Liners
Skid mounted for forklift transport
Electrical circuitry to Safe Guarding of Machinery
Safety cutout switchwhen lid is opened
Bag Breaker Capable of batch quantities of up to 250 Kgs of dense refractory castable
4-11 KW (5-15Hp) 380V 3 Phase 50Hz IP55 motor ratio 1:40- Power of pan mixer vary with capacity

Port-A-Trac
Two men can easily push a 4,000 lb. pallet of brick up the kiln, with the help of this. Multiple transfer carts with same capacity can run along same track
Comes standard with an electric power winch mounted on a platform for moving the cart
Lightweight, aluminum, modular system for transporting full pallets of brick into the kiln

Diamond Blades
Laser welded diamond blade for refractory is manufactured by laser welding technology with key slot and drop segment for undercut protection, which enables the blade to cut refractory material with both wet and dry cutting process
Super Premium Grade (Blue Colour) is recommended for general cutting works
Professional Grade (White Colour) is recommended for professional user where cost per cut is the prime consideration

Electric Vibrator
Used for installation of refractory castable, supplied with vibrating head. Typical Specifications of a standard Electric Vibrator is as follows:
Motor
Vibrating Head

Power: 2 HP
Voltage: 1 Phase - 220 V

Diameter: 25mm
Head Length: 463 mm
Vibrating Frequency: 12600 RPM
Diameter of Flexible Hose: 28 mm
Hose Length: 5 m

Kiln Ramp
Supports 6,804 kg(15,000 lb.)
Live load capacity with a3:1 safety factor which allows working demolition equipment and fork truck access
9mm (3/8) non-skid diamond plate decking and heavy duty fall guards
Modular design allows quick installation (2-3hours approx.)
Each ramp is designed by certified professional engineers, built for your specific kiln and made with high grade 6061 T6 aluminium

Klin Inspection Cage
The 4 man cage can be easily carried by 4 people using flip-up handles.
The 2 Man Cage can be easily carried by 2 people using flip-up handles attached to a safety gate and shoulder harnesses (which is standard for increased stability).
1.5M (5 feet) of portable protection designed & certified by a professional engineer.
Rated for 114kg (250 lb.) dropped from 60 cm (24 in) with a 3:1 safety factor. A shock absorbed panel increase safety.

Brick Alignment Device
The laser ensures the precise placement of each row of brick.
This can be assembled and ready for use in less than 30 minutes
It produces a continuous laser light parallel to kiln's axis which is intercepted by a rotating pent a-prism device.
This refracts the laser perpendicular on to the circumference of the kilnshell safely.
This line can be marked at points along the kiln, which are then used as an exact reference for installation ofthe refractory.
Bedding Cart
Speed up bedding out larger kilns while providing a safe, ergonomic working deck with stair steps for higher brick placement. Stair step ergonomically designed reduces fatigue and increases productivity.
Custom designed and engineered to meet needs of each plant.
2,721 kg (6,000 lb.)capacity deck with large working space allowing room to stack brick.
Big castors with kick brake for easy and fast movement of cart, brick, and tools as bedding brick is installed.

Long Jack
Pneumatically operated hydraulic jack with pressure gauge for consistent installation pressure on each ring of brick.
Custom designed and engineered to meet needs of each plant.
Swivel foot braces adjust automatically to brick angle
Optional finger-tip control located onjack for ease of use & safety

Conveyor
All-aluminium, modular conveyor system designed for portability, easy set up, and trouble free performance.
Reduces or eliminates brick damage due to handling.
System can be set up on the ground, spring boards, or elevated on standard adjustable legs
Belt sections are easily assembled with hinged lacing and spring pin design
Lengths up to 85m (280ft) and widths of 30.5cm (12"), 50.8cm (20"), and 76.2cm (30") available.

Incline Conveyor
The Incline Conveyor allows\transfer brick or refractory from the kiln floor to the bricking machine work platform with minimal effort. This is a perfect solution if there is no access for a fork lift to enter the kiln to place pallets of brick onto the machine.
Mounted up or down kiln end of bricking machine work platform
Electric 1 HP (746 kw) motor with 2 emergency shut off switches at each end
Wheels on base adjust to slope of the kiln keeping conveyor even
Lightweight 6061-T6 aluminum
Designed for any machine 3.5M - 7M
Modular design, 3 sections for easy assembly
Cuts down on time and labor

Pay Loaders
Air Breaker
Lift
Crane
Goggles
Pneumatic Breakers
Hydraulic Jack
Fork Lift
Hoist
Safety Belts
Demolishing Car
Hack Saw and Wood Saw
Hand Lift
Safety Shoes
Safety Helmet
Cavo Car
Air Compressor
Truck
Dust Filter Mask