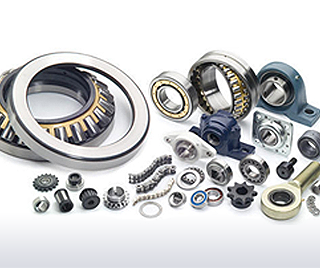 Spares

Steel Chord Reinforced The mechanical demands on steel cord bucket elevator belts are fundamentally different to those of belt conveyors. High tensile and pullout strength on cords with small diameters are equally decisive as a straight running and a high temperature resistance in case hot bulk materials have to be conveyed.

Drive Tail Pulley Avail from us the quality range of Drive Pulley / Driven Pulley / Tail Pulley. It is very useful for all types of belt drive. These drives use special shaft fixing system to ensure high functionality at users end. We manufacture these with maximum precision for exact tolerance with fine grain. Moreover, these drive pulleys can withstand heavy shock loading and have excellent balance to ensure low vibration. We offer the range at the market leading prices.

Chain VAID is a leading manufacturerand exporter of Bucket Elevator Chains no.

Bearings We are one of the prominent company, involved in presenting a top quality gamut of Bearings for Bucket Elevators. These bearings operate successfully with many dry or most products including abrasive products. We utilize optimum quality raw material to manufacture these bearings. Our entire array of bearing is checked on various quality parameters to ensure its flawless quality.

Chain Links A chain is a series of connected links which are typically made of metal. A chain may consist of two or more links. Those designed for lifting, such as when used with a hoist; for pulling; or for securing, such as with a bicycle lock, have links that aretorus shaped, which make the chain flexible in two dimensions (The fixed third dimension being a chain's length.) Those designed for transferring power in machines have links designed to mesh with the teeth of the sprockets of the machine, and are flexible in only one dimension. They are known as roller chains, though there are also non-roller chains such as block chain.